Well, I finally managed to get round to getting this job done, having spent the last couple of years drooling over "Bucketboy's" post, & his converting of an electric trolling motor for his OK Big Game…….Many thanks for all the help Pete 😀 😀 .
It,s not difficult to do, but it did require a good bit of thought, & the growing of a set of nads to butcher a new trolling motor, & drill holes in the Yak where they arn,t supposed to be……
First job was to make a metal bracket to fit to the stern, using the existing rudder system screw holes on the narrow rear of the Prowler. The motor transom bracket was modified & bolted onto this.
Then a small hatch was fitted to allow access to the inside of the stern area of the Yak
I fitted a cable gland to the hatch cover – the power leads to the motor would eventually come out of here.
I had to dismantle the motor, taking out the tiller arm & removing the top housing in order to remove the speed control box – this would be mounted in a suitable area & need to be easily accessible when seated. The only place on the Prowler is the little screw hatch just forward of the seat.
I had to make a steering arm which would be clamped to the shaft – the steering cables would attach to this.
The motor shaft was shortened by approx 10inches, & all of the wiring coming from the shaft was then shrink tubed, & sleeved in flexible conduit, the steering arm painted black, a couple of drop links fitted to the steering arm, & the butt cap of my old Zzipplex packed with silicone & shoved onto the top end of the shaft to keep everything nice & waterproof.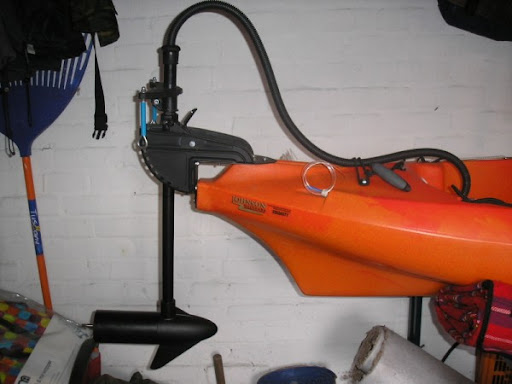 Steering cable liners were run from the footwell, inside the hull towards the stern, & out where the rudder system cables would emerge. At the rear they come out through cable glands to give a good tight waterproof seal, & at the footwell through a couple of ruber grommets, then secured in place with stainless neoprene lined "P"clips.
Using these liners would stop any water running down the steering cables, & dripping off inside the Yak.
A "keeper footrest" set was fitted, 275lb nylon used as steering cable & ran through the liners – then both ends were connected up.
The speed control box was mounted in a waterproof box, & fitted to the underside of the hatch cover. the wires were then connected up, the hatch screwed down, & a cooker knob pushed onto the control box spindle.
The power leads to the battery were routed from the control box, inside the hull,out into the area behind my seat in the crate well to be attached to the battery
All that was left to do was to give it a trial, which happened at Muckno last weekend……….. 😀 😀 😀
Lets just say that adding the motor to the Yak for Trolling has been one of my better fishing ideas……ever!!!!
The motor has 5 forward & 3 reverse speeds. I trolled diving plugs in second gear which was a perfect speed, landing 5 jacks, before coming ashore at lunchtime. Cant wait to get out again!!!!![attachment=0]PC040061.jpg[/attachment]
Davy McClelland